Ghana: Teshie Fishermen Await Pre-Mixed Fuel for Their Sea Expeditions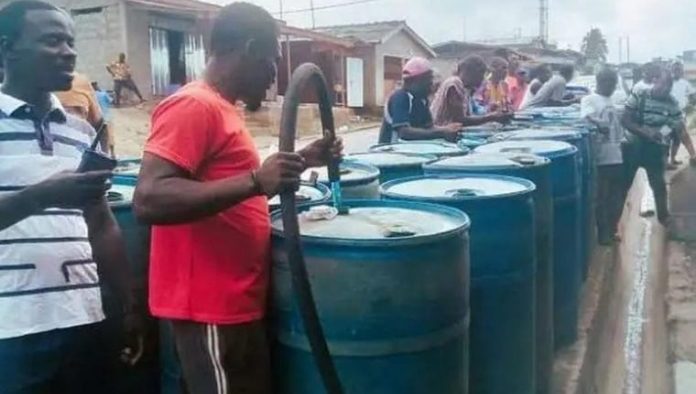 Fishermen at Sango Landing Beach in Teshie are unable to venture out to sea for fishing, three days after the end of the annual closed season.
The main reason behind this situation is the delay in delivering pre-mixed fuel to Sango Beach, making it challenging for fishermen to embark on their expeditions.
According to Nii Adjei Wawadzan, the chief of the fishermen at the beach, only ten out of the 180 canoes have been able to set sail since the season ended last Monday.
He explained that the owners of these ten canoes had to purchase fuel from outside the coastal area.
Nii Wawadzan lamented that even those who managed to go to sea after purchasing expensive fuel had meager catches since they couldn't venture further due to limited fuel quantity.
He also highlighted the negative impact of development on their livelihoods, stating that they were no longer able to provide for their families as they had exhausted all their savings during the closed fishing season.
Nii Wawadzan said, "Buying fuel other than the pre-mixed one provided to us is not feasible."
He added, "We have already spent a whole month without fishing, and any further delay in the delivery of pre-mixed fuel will only worsen our situation."
The fishermen have called for swift intervention, emphasizing that their livelihoods depend on fishing.
The closed fishing season was instituted by the Ministry of Fisheries and Aquaculture Development in accordance with Article 84 of the Fisheries Act of 2002 (Act 625) in response to the depletion of fish stocks at sea.
This seasonal closure is part of a set of measures aimed at replenishing fish stocks and ensuring sustainable management of marine resources.
While the canoe and coastal fishermen observed the closed season from July 1st to July 31st, industrial trawlers adhere to it from July 1st to August 31st.